World Telecommunication/ICT Development Report 2006:
Measuring ICT for social and economic development
8th edition 2006, price: 100 Swiss Francs ORDER NOW !
Download the Executive Summary - English, French
This is the eighth edition of ITU's World Telecommunication/ICT Development Report. The 2006 edition's theme is "Measuring ICT for social and economic development" and was specifically prepared for the World Telecommunication Development Conference in March 2006. Besides looking at the progress made in measuring the impact of ICT on social and economic development, the report provides the latest telecommunication/ICT indicators for some 180 economies wordwide.
Old and new divides
Access to information and communication technologies continues to grow at high speed and the digital divide – in terms of mobile subscribers, fixed telephone lines and Internet users - keeps getting smaller. ITU statistics show that by the end of 2004, the telecommunication industry had experienced continuous growth, as well as rapid progress in policy and technology development, resulting in an increasingly competitive and networked world. There are more ICT users worldwide and more people communicating than at any other time in history. By the end of 2004, the world counted a total of three billion telephone subscribers, 1.8 billion mobile subscribers and 1.2 billion fixed lines. Both, the number of mobile subscribers and the number of Internet users more than doubled in just four years. By end 2004, the world had over 840 million Internet users, which means that on average 13 percent of the world's population was online.
It is true and encouraging, that overall, the digital divide has been reduced. Our statistics show that within four year, from 2000 to 2004, the gap separating the developing and the developed countries has been shrinking in terms of mobile subscribers, fixed telephone lines and Internet users. We measure the gap (the digital divide) by dividing the ICT penetration rate in the developed world by the ICT penetration rate in the developing world. Phenomenal growth rates in the mobile sector, particularly, have been able to reduce the gap from nine in the year 2000, to four by the end of 2004. This gap has also been reduced in terms of fixed lines, from six to four, and from 15 to 8 in terms of Internet users.
Figure 1: Digital opportunities are growing…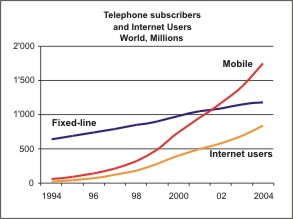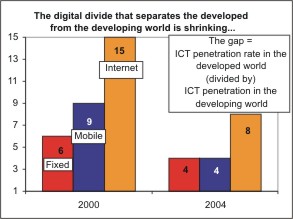 Source: ITU World Telecommunication Indicators Database.
At the same time, the world continues to be separated by major differences and disparities in terms of ICT levels. In 2004, almost one third of the population in Europe (29%) and the Americas (28%) was online, compared to eight percent in Asia Pacific. Europe has almost 15 times the Internet penetration of Africa, where less than two out of 100 people use the Internet. Internet penetration also remains below world average in the Arab States, where less than six out of 100 people are online.
High growth rates in some areas, and particularly the mobile sector, are not sufficient to bring digital opportunities to all and many developing countries risk falling behind, particularly in terms of Internet access and newer technologies such as 3G and broadband. The introduction of high-speed Internet access is of great importance for the transformation of Information Societies since it opens up new possibilities and visions on how the Internet can provide a platform for enhancing countries' social and economic development. This is why it is disturbing that the vast majority of broadband users are in the developed world. Of the world's broadband subscribers, no less than 97 percent are located in Asia-Pacific, Europe and North America. Africa, and the Arab States, particularly are lagging behind and many countries have not yet commercially launched high-speed Internet services.
Figure 2: …but major disparities remain and new divides must be addressed!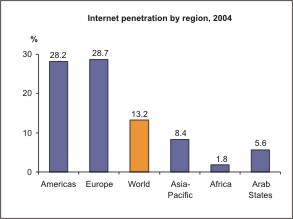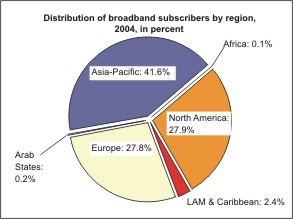 Source: ITU World Telecommunication Indicators Database.
It is important to counteract such a new technology divide, particularly since broadband is playing a crucial role in transforming countries into Information Societies. ITU research shows that some of the applications that are having the greatest impact on people and businesses are closely linked to broadband uptake. Since access to basic communications in the developing world has largely been achieved through mobile communications, broadband wireless access (BWA) is expected to play a key role for developing countries seeking to foster the Information Society. The report highlights that the mobile boom by itself is not enough, and increasing efforts must be undertaken to take advantage of the great potential offered by these new technologies.
The lack of and need for impact indicators
The lack of comprehensive, timely and comparable data remains a major barrier to analyzing the status and progress of Information Societies, identifying reliable targets and adapting policies. The world has made some important progress in agreeing upon a common set of Information Society access and usage indicators and efforts continue to improve the availability and comparability of core Information Society indicators. But, measuring access to, and use of, ICTs is not enough, particularly since it has been widely recognized that ICTs are not an end in themselves. One of the main reasons that ICTs have received so much attention is the promise they hold for social and economic development. The final documents outlining the international community's commitment and steps on how to establish and organize the Information Society adopted during the WSIS process make this very clear, through their reference to "ICTs as a tool for social and economic development" (Box 1).
Box 1: The World Summit on the Information Society (WSIS) shows: Our expectations are high!
The documents adopted during the World Summit on the Information Society (WSIS) clearly highlight the promises of information and communication technologies (ICTs) and accept the link between ICTs and social and economic development. The Geneva Declaration of Principles (DoP) and Plan of Action (PoA), and the Tunis Commitment (TC) and Tunis Agenda (TA) include over two dozen references that highlight how ICTs can help achieve the Millennium Development Goals (MDGs), contribute to economic growth, productivity, and sustainable development and create jobs, and contribute to and improve the quality of life. For example, the WSIS DoP states that the international community is "aware that ICTs should be regarded as tools and not as an end in themselves. Under favourable conditions, these technologies can be a powerful instrument, increasing productivity, generating economic growth, job creation and employability and improving the quality of life of all". The TA confirms that "it will be possible to succeed in our challenge of harnessing the potential of ICTs as a tool, at the service of development, …to address the national and local development priorities, thereby further improving the socio- economic development of all human beings".
Despite the potential of ICTs to be an engine for economic growth and deliver innovative applications in government, commerce, education, and many other areas, there is limited quantifiable proof. Evidence remains largely anecdotal. Although there is a growing body of studies that show that ICTs have a significant macroeconomic impact, it is not clear to what extent ICTs have helped to directly reduce major development concerns and particularly those of the MDGs, such as poverty, hunger or sickness. To be able to understand, track and compare the impact that ICTs are having it is necessary to identify possible ways to measure impact.
The impacts of ICTs are multiple and real
Even if the ICT sector is growing faster than the overall economy, and representing a substantial (and often increasing) share of GDP in some countries, the real potential of ICTs is not the direct impact of the ICT sector itself. The key economic impact of the spread and use of ICTs is indirect, by transforming the way individuals, businesses and other parts of the society work, communicate and interact. Of particular interest is the ability of ICTs to raise productivity. Different macro-economic and firm-level studies confirm high potential productivity gains from ICTs but emphasize that the benefits of ICTs depend on a number of other factors. To maximize the effects of ICTs, other changes, including a new set of ICT skills, structural changes within business models and institutional and regulatory adjustments within the economy, must be made. Most of the existing studies apply to developed countries and regions and more research needs to be carried out on the impact of ICTs on sector and firm-level productivity in developing countries.
Besides increasing productivity, ICTs are transforming economic relationships and processes in the private and public sector. Positive impacts have been observed and measured across developed and developing countries. Just as e-commerce and teleworking allow companies to reduce costs and increase revenues, e-government has the potential to save money, increase efficiency and raise transparency in the public sector (Figure 3). There have been a number of successful efforts by governments, organizations, and industry to quantify the positive impacts of ICTs. It is obvious that both administrative data and case studies and sector-specific surveys need to be carried out to measure the impact of ICTs.
Figure 3: How ICTs save time and money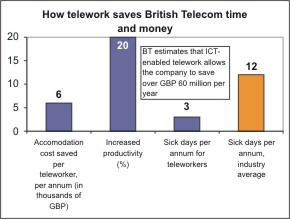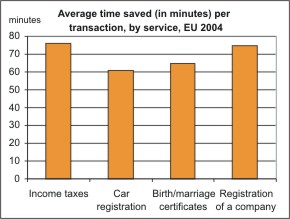 Source: ITU adapted from Broadband Stakeholder Group (BSG, 2004) (left) and ITU adapted from the EU (right).
The sector that so far has had the strongest impact in developing countries is the mobile sector, particularly since mobiles are not just a different or complementary way of communication but have opened up entirely new communication means in many parts of the developing world. The boom of the mobile industry has not just created new jobs and revenues but also contributed to economic growth by widening markets, creating better information flow, lowering transaction costs, and substituting for costly physical transport. ICTs are also having a real impact on social development, although the quantification of this impact and the development of indicators are complex and must be seen as a constantly evolving process. The report has suggested a way of measuring the impact of ICTs on the achievement of the Millennium Development Goals (MDGs) through a system that distinguishes between inputs, outputs and outcomes. This approach could help organizations (such as development agencies) as well as governments track the efficiency of using ICTs in achieving the MDGs. Efficiencies must be viewed not only in terms of providing more but also better results through the incorporation of ICTs.
Apart from the impact of the mobile sector, the transformation of economic relationships and processes is particularly visible in those countries and areas that have the highest Internet penetration levels. The spread of broadband seems to have a particularly important role in certain areas, including for the emergence of e-commerce, teleworking, and e-education and health. This highlights the need for developing countries to pay special attention to broadband deployment and strategies.