Youth Incentive Scheme
This initiative offers selected young graduates of telecommunications/ICTs or related fields opportunities for an internship with: the ITU (Headquarters or ITU Field Offices) but since 2006 was opened to Member States and Sector Members. The professional work experience received is equivalent to a university course and represents an initial career for junior professionals in telecommunications or related fields. The initiative provides internship opportunities to young professionals in telecommunications/ICTs from LDCs and developing countries. For the moment, we have one partnership with Alcatel-Lucent where over 100 youths benefited during the first year of this partnership.
The objective is to integrate youths into an ICT working environment, encouraging and supporting first job opportunities to facilitate access to employment opportunities in this sector. Due to high demand, member states and sector members are encouraged to partner with the ITU for this activity in order to reach more youth. The scheme is quite flexible to suit each company willing to participate in terms of number of youths to be supported, remuneration while under the internship as well as timing and origin of countries for the youths as long as it is an LDC.
Internet Training Centres Internship Programme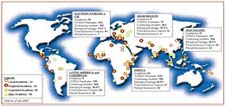 This programme is available to graduates of the 78 ITU Internet Training Centres globally. The main objective is to establish the critical link between graduates with technical skills such as networking, cabling, computer hardware and software and the companies where these skills are required. The participation of the ITU Member States and Sector Members in providing and sharing professional experience would have a positive impact not only on the employment and careers of young professionals in ICTs but also in bridging the digital divide.