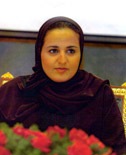 Sheikha Al-Mayassa is Chairperson of the Reach Out to Asia Initiative, a philanthropic effort to help the victims of recent natural disasters in Asia.
She is the Chairperson of Qatar Museums Authority and Assistant to the Chief of Staff of Qatar's Emiri Diwan.
Sheikha Mayassa has been engaged in humanitarian efforts for many years and strongly believes that every individual has the opportunity to make a difference in their community and the world.
Her latest project, Reach Out to Asia, raised 30 million dollars in five months to help people who lost homes, livelihoods and loved ones in the recent tsunami as well as the earthquake in Pakistan. The initiative will also develop primary and secondary education in Asia's least developed countries, such as Cambodia and Bangladesh.