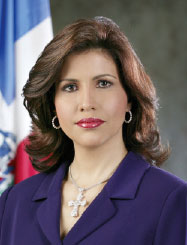 Remarks
by H.E. Dr Margarita Cedeño de Fernández,
First Lady of the Dominican Republic
Laureate 2007 - For her outstanding personal contribution towards building an inclusive and equitable global information society;
I feel honored and humbled to receive this important recognition for the continued work that our Government has been doing, in particular on behalf of the Office of the First Lady, in favor of universalizing the access, use and management of ICTs as a key tool for the development of our nation.
Since the beginning of our administration - as First Lady of the Dominican Republic - our commitment has been to promote a development that is human and inclusive for Dominican families, which we implement by way of social and educational strategies that allow for the empowerment of each family member so that they may assume the responsibility for their own future well-being. These strategies are strengthened through the effective use of ICTs as an efficient and expeditious tool, which permits us to develop by transforming the lives of our citizens.
For these reasons, we have focused on establishing Community Technology Centers (CTC) in the pockets of poverty in the Dominican Republic, where we have put ICTs at the hands of the most disadvantaged. Currently we are working in the poorest municipalities and communities in our country.
Our goal is to build a Community Technology Center in each and every municipality and village.
I would like you to join us in this journey towards development, were we embark upon ICTs as a vehicle that will show us the CTCs at work. I invite you to witness the development of the community of Pedro Sanchez, as well as the rest of the Dominican Republic.