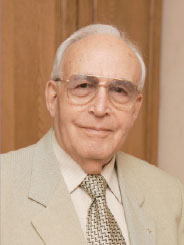 Professor Dr Mark I. Krivocheev,
Chief Scientist of the Radio Research Institute (NIIR) in Moscow, Russian Federation
For his lifetime achievements in the technical development of television services and systems;

Professor Dr Mark I. Krivocheev was born in the USSR on 30 July 1922. In 1946 he graduated from the Moscow Telecommunications Institute.

From 1970 to 2000, he worked as the Chairman of CCIR (ITU-R) Study Group 11 (Television). The proposal for a world television digital standard (Recommendation 601) earned ITU the Emmy Engineering Award. Other texts of prime importance that were prepared, proposed by him using a new global approach, are Basic parameter values for the HDTV standard for the studio and for international programme exchange (Recommendation 709); Method for the subjective assessment of the quality of television pictures (Recommendations 500 and 710). Since 2000 he has been the Honorary Chairman of Study Group 6 (broadcasting service).

Following on from the international standardization of digital television broadcasting, he proposed the creation of a global information society using ubiquitous multifunctional interactive digital television broadcasting to bridge the digital divide and, through the power of ICT, transform it into digital opportunities.

He has received many awards including the USSR and Russian Federation State Prizes. The Montreux Symposium gave him its Gold Medal in 1987, and the EBU awarded him a certificate on the occasion of the 60th anniversary of the CCIR in 1988. Later, following the adoption of many important Recommendations, his achievements were praised at the four corners of the globe: NANBA awarded him a special plaque, the IEEE CE Society presented him with the Engineering Excellence Award, ITE of Japan bestowed a special award, the Australian Department of Communications and Broadcasting awarded him a certificate, and France has made him a Chevalier de l'Ordre national du mérite.

He is the author and co-author of more than 350 publications and has registered over 90 national and foreign patents.