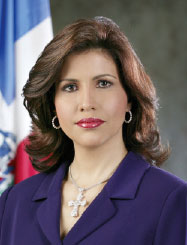 H.E. Dr Margarita Cedeño de Fernández,
First Lady of the Dominican Republic
For her outstanding personal contribution towards building an inclusive and equitable global information society;

Dr Cedeño de Fernández is the wife of Dr Leonel Fernández, President of the Dominican Republic. She has a Doctorate in Law from the University of Santo Domingo and a Master in Economic Legislation at the Madre y Maestra Catholic University.

Ms Cedeño participated at the launch of the Digital Solidarity Fund (DSF), held in Geneva on 14 March 2005. She conveyed President Leonel Fernández's support and total commitment to the cause of the DSF.

The Dominican Republic has created an ambitious plan focused on closing the digital divide by improving connectivity, digital literacy, ICT capacity building, etc. To implement these projects, President Fernández has appointed the Office of the First Lady to carry out the work of making technology a service of the people, particularly those inhabitants of the most impoverished areas. Among the projects, there is a plan to install 135 Community Technology Centres, one in each municipality throughout the country. This will enable, the extremely poor communities to become a part of the development process for the social, cultural and economic advancement of the country. Each Centre aims at building the capacity of its citizens, their knowledge and ability to effectively utilize ICTs. The Centres allow access to telephone services, fax, Internet, universal knowledge, database creation, information processing, etc.

Through the Centres, the Government promotes the programmes that achieve the effective inclusion of women and young girls in new technologies, which would increase gender equality.

In November 2005, Ms Cedeño was the head of the Dominican Delegation to the World Summit on the Information Society (WSIS), Second Phase, in Tunis.