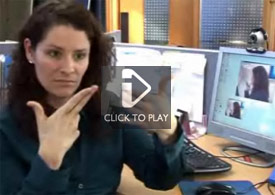 Tish Kerfoot, who is deaf, says that SignVideo, a video interpretation service in the United Kingdom, has had a dramatic impact on her life.
"SignVideo allows me to express myself fully and I don't feel any different to hearing people. I am able to express myself freely using my own language.
Before I started using SignVideo interpreting, I would use textphone, but that would be quite slow and, in order to have a conversation with people - a real hard conversation that would feel the same to the hearing person as speaking to another hearing person with the text phone - there was quite a delay and I found that that was problematic for me at work.
SignVideo has transformed my working life and I have been using it for one year and I would love to see the system embedded here in England. It has done exactly that, changed my career and, not only that, but my personal life."