17 May 2001 - World Telecommunication Day
The Internet: challenges, opportunities and prospects

INTERNET AND ELECTRONIC COMMERCE
Next to driving a Formula 1 racing car or bungee-jumping off the side of a cliff, nothing is probably more hazardous than predicting the future of commercial trading over the Internet. The recent shake-out of the so-called "dot.com" companies, which have included the collapse of noted names such as eToys, boo.com and pets.com, have the experts re-evaluating their forecasts for e-commerce. But few can deny that the Internet revolution has led to a fundamental review of business planning strategies in corporate boardrooms around the world. It is now unthinkable for a major company not have its own website extolling its virtues and peddling its wares. Even for small companies, establishing an on-line presence has become a business necessity.
The frontiers of the Internet revolution do not stop at Silicon Valley. Take for example the Câmara dos Dirigentes Lojistas de Belo Horizonte (CDL/BH), an association of local retailers and exporters in the Brazilian city of Belo Horizonte, some 300 km inland from Rio de Janeiro. Originally set up in 1960 to share information among shopkeepers on credit purchases of customers, CDL/BH has now moved into the world of cyber-selling. Thanks to assistance provided through the International Telecommunication Union's Electronic Commerce for Developing Countries project (EC-DC), the association's 10 000 members have established a Business Exchange Service for business-to-business (B2B) transactions. Web purchasers can now click on the CDL/BH website to make electronic payments, access their commercial page listing of local businesses, learn about the association's services such as telemarketing, electronic transfer of funds, or even find out how to book space at the city's convention centre.
Despite CDL/BH's success in getting its members on-line, the rise of e-commerce, like the Internet itself, is still largely confined to the rich. In 1999, the United States accounted for more than 70 per cent of commercial websites around the world, with owners of those websites garnering over 90 per cent of global e-commerce revenues. In contrast, e-commerce revenues in Latin America and the Asia-Pacific region accounted for just over two per cent of the total in the same year.
One example of this disparity is in the Asia-Pacific region. The research firm eMarketer said in a recent study that, in the year 2000, the region's share of e-commerce jumped to 13.8 per cent of global on-line transactions. However, nearly 70 per cent of this commerce was centred in Japan. China and India, the world's two most populous nations, account for only a fraction of the region's total e-commerce.
Even where e-commerce is picking up, the trade tends to be a North-South affair rather than between developing countries themselves. While eMarketer predicts that Latin American e-commerce will leap to USD 15 billion by 2003, it also noted that nearly 75 per cent of current on-line buying in the region is done through United States-based Internet sites.
Part of the problem for businesses in the developing world is the cost of setting up an e-commerce platform on the Internet. ITU notes that the average cost for a company is around USD 250 000 while for major international firms the cost can run anywhere from USD500 000 to 2 million. Then there is the cost of Internet access. Internet service providers (ISP) in developing countries must cover both circuit and traffic costs to connect to a point of presence on the Internet backbone (usually in the United States), which makes the service more expensive for end-users. Users in the developing world must also contend with additional hurdles such as the high cost of Internet hardware/software, Internet access provision and telephone service charges, and the shortage of infrastructure, notably of telephone lines.
Ironically, the costs to get connected to the Internet are much higher, in relative terms, in developing countries than in advanced economies. While in the United States, the average professional could very well afford to buy three computers with his or her monthly salary, in Tanzania, a computer costs three times the average monthly salary of a professional. For lower middle-income countries, the cost of a PC represents 289 per cent of GDP per capita compared with 28 per cent as the world average. In high-income countries, this drops to only 5 per cent of GDP per capita! Then there is the cost of accessing the Internet. Because of the low number of Internet users in developing countries, ISPs must set higher prices to cover their costs, let alone making a profit. As a result, while an America Online account in the United States may cost USD22 a month - or less than one per cent of average US monthly income - an Africa Online account in Ghana costs around USD 50 per month, nearly twice the monthly income of most Ghanaians.
In addition, many operators in developing countries are under global pressure to "rebalance" their telephone charges, or to raise local call rates in order to compensate for reduced long-distance and international call income as accounting rates fall. Internet users with local dial-up access are, therefore, obliged to reduce their on-line time in order to avoid hefty telephone bills. When it comes to connecting to the Internet backbone, developing countries generally have to pay connections to the United States where most backbone providers are located.
Furthermore, whereas the settlements system is based on a "half-circuit" regime, where the operator in the country at either end of the link is responsible for providing and paying for a half-circuit, in the Internet peering model, the operator in the foreign country must normally pay for both half-circuits (i.e. the whole circuit) to the United States. Thus developing country operators end up paying twice - first for the circuit, then for the traffic - even though traffic flows in both directions once the circuit is established. While these costs can recouped from the customers of the ISP in the developing country, the net result is still that Internet service is more expensive for consumers in developing countries. All together, it makes it very difficult, if not impossible, for buyers and sellers in these countries to get on-line and utilize the electronic marketplace.
The pooling of resources can however help developing countries surmount some of the negative effects of higher costs of Internet connection. ITU has become involved in a number of projects designed to bring the benefits of e-commerce to the developing world. For example, the EC-DC project allows firms in developing countries to access secure e-commerce portals through local banks and World Trade Centres, thus providing them with digital certification and secure electronic payment facilities which they would not have the technical or financial capacity to create themselves.
In addition, banking services are often not extensive and network infrastructure for financial services which plays the essential role of intermediary between the seller and the buyer (banks, credit card companies and other financial institutions) is frequently not interconnected to the communications and data processing Web underlying virtually every deal. For many developing countries, this represents the only cost-effective way to access e-commerce. Through this project and in cooperation with its private sector partners, ITU is now helping to roll out e-commerce infrastructure in more than 100 countries.
In Africa, ITU is working with the government of Japan to provide technical and financial assistance to the Association pour le Soutien et l'Appui à la Femme Entrepreneur (ASAFE) based in Cameroon. ASAFE, which groups together 3500 women entrepreneurs in various countries of Western Africa, provides training, research and financing through its Femme Epargne Crédit (women's credit/loan) programme.
The Digital Divide is shrinking
Share of low and lower middle income countries in
main lines, mobile subscribers and Internet users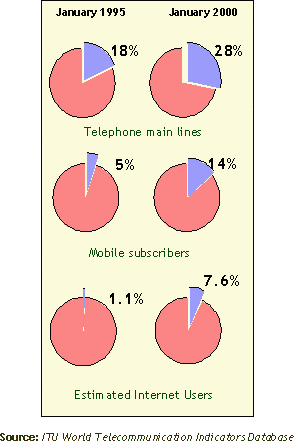 The ITU project will help ASAFE set up an e-commerce infrastructure to be run and operated by the association for its members. One beneficiary of this programme may be Raphaëlle Assiga, an ASAFE member who runs Ralph Creation, a small gallery in the Cameroonian town of Douala. The gallery sells sandals, necklaces, armchairs and jewellery accessories made from local materials, all handcrafted by Assiga and two helpers. Most of the handiworks are sold to tourists visiting Cameroon, but ASAFE's new e-commerce service - set to come on-line this year - may help her to reach out to new markets and customers which would have previously been unthinkable.
In Asia, ITU has helped to establish the Viet Nam Electronic Commerce Portal. Carried out in partnership with the Vietnamese Government, the project is part of an effort being carried out by the ITU in association with the World Trade Centre Geneva and the World Internet Secure Key (WISeKey) SA to establish a Global Electronic Commerce Network for developing countries. Through the portal, users can access the latest trade news from Vietnam, legal documents, information about Vietnam's businesses and economy, and details about import and export tariffs. The portal also allows Vietnamese firms to receive information about Global Electronic Trading Opportunities through the United Nations Conference on Trade and Development's (UNCTAD) Trade Point Development Centre, a service that is particularly useful for small and medium-size businesses looking for buyers and sellers abroad.
Admittedly, these projects are but a drop in the bucket. A lot more needs to be done by governments and the private sector to ensure that the fruits of the Internet are spread widely, and that the prospects of boosting trade and development through e-commerce can become a reality. Indeed, the biggest obstacle to expanding access to the Internet in developing countries may well be complacency, the idea that the Internet has thrived on its own without government involvement and that the "digital divide" will eventually right itself on its own.
There are some grounds for hope, however (see chart). An increasing number of developing countries are building new infrastructure to connect to the global electronic market-place, allowing them in effect to "leap-frog" from antiquated networks to the latest state-of-the-art technology or to take advantage of cost-effective technologies to expand their network outside the main capital city and bring access to rural or underserved areas. China for example is expected to spend USD 24 billion by 2005 to develop its broadband infrastructure. It may not be too much to hope that entrepreneurs and innovators in these countries may set an example for Silicon Valley by helping to kindle the flames of the next "dot.com" revolution.
For further reading, see What's so special about the Internet and Internet for Development: Challenges to the network, 1999
---
This document is also available in pdf format in
Home · Message of ITU Secretary-General · Message of the UN Secretary-General · What's so special about the Internet · Internet and Health · Internet and Education · Internet and E-commerce · Invitation to ITU Members · Who to contact