How Does the Media Cover the Games?
---
From humble beginnings in terms of press coverage, the Olympic Games have today become the 'Greatest Show on Earth'. Only eleven journalists covered the first modern Olympics, held in 1894 in Athens. Today, the contingent of media personnel is the largest single group to converge at the Games, easily dwarfing the other services, and even outnumbering the athletes themselves. The enormous, almost universal appeal of the event and the concomitant potential for generating advertising revenue, combined with the Olympics' ability to provide wonderfully striking images - both moving and still - has resulted in tremendous growth in media attention in recent years.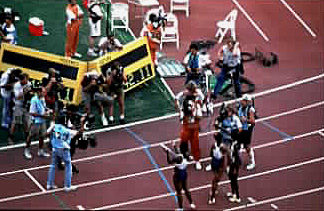 For the Barcelona Olympics, 147 television and radio stations were accredited to provide coverage of the Games. They were housed in a facility second-to-none. The Main Press Centre occupied over 51,000 square metres, an increase of two-and-a-half times over the space allocated at the Los Angeles Olympics held only eight years earlier. The facility was operational 24 hours a day, accommodating the needs of the press from all around the world, who were working to deadlines in all time zones. It contained several walls of giant modular screens, capable of displaying a single large image or multiple images from a range of Olympic events and locations. Journalists could take advantage of 125 production areas, a video library containing the televized production of the Games, monitors linked to every sporting event, a telecommunications centre, banks of networked computers providing instantaneous sports results, press rooms accommodating up to 1,200 people and providing simultaneous translation services, and telephone lines specially prepared to accept high-definition electronic transmission of photos, among other special facilities.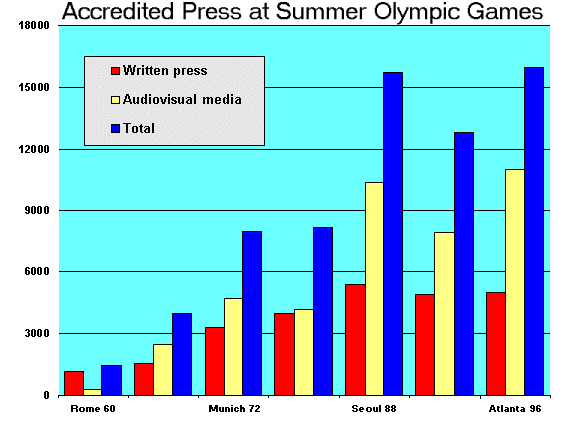 Adjacent to the Main Press Centre was a specialized facility for radio and television representatives. The International Broadcast Centre occupied over 45,000 square metres, and for the duration of the Games was home to the host broadcaster, RTO92, and the other rights-holding broadcasters. The centre was a huge conglomeration of television and radio production suites, editing and post-production facilities, commentary booths, telecommunications equipment rooms, and meeting rooms and facilities to service around 8,000 people. Because of the nature of the work performed there, the building was soundproofed and climate controlled.

The growing number of media personnel reflects not only the seemingly continuous growth in interest from the press, and the growth of the media industry worldwide, but the growing sophistication of the equipment used to bring the games to people all over the world.

---