In the PP-02 newsroom, media can find background information to assist them in better understanding the issues and work to be achieved by the Conference. All material found on this site can be used for reporting purposes.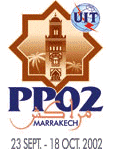 Journalists may cover on-site or off-site. Both must be accredited in order to gain privileged access to the conference documents, delegates' contact details, press material released from the event and the print version of the press kit. The web version of the press kit is freely accessible from this website.
In addition, accreditation gives access to the Conference plenary sessions (Plenary meetings and its working groups as well as plenary of committees); media accreditation also enables journalists to attend the side events organized by the host country (exhibition et forum).
Information in the newsroom is available from eight broad categories accessible via the left menu.