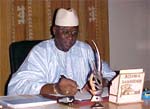 H.E. Mr. Adama Samassékou
President of WSIS Preparatory Committee for Geneva Phase
President of the African Academy of Languages,
Former Minister of Education of Mali (1993-2000)
Mr. Adama Samassékou, aged 56, married with three children, completed his primary and secondary education in Mali.
After obtaining a Master of Arts in philology and linguistics from Lomonossov State University in Moscow, Mr. Samassekou continued his studies in Paris. After obtaining a DEA postgraduate diploma in African linguistics from the Sorbonne and a DESS specialist postgraduate diploma in organizational science from the Université de Paris-IX (Dauphine), he was subsequently head of the Linguistic Department of the Institute of Social Sciences of Mali, then director of the National Library of Mali and adviser to the Minister of Culture.
Playing an active role in community life, Mr. Samassékou was the founding president, for Mali and Africa as a whole, of the Peoples' Movement for Human Rights Education. In the political sphere, he was the founding chairman of ADEMA-France.
Having been Malian Minister of Education for seven years (1993-2000) and former spokesperson for the Government of Mali (1997-2000), Mr. Samassékou is currently president, with ministerial rank, of the African Academy of Languages.