TELECOM99
---
Music and dance are powerful means of communication. "Every society that we know of has danced — it is one of humankind's most compelling forms of expression." And so with dance, Telecom 99 + Interactive 99 opened at Palexpo (Geneva) on 9 October for eight days. Ericsson, the sponsor of the opening ceremony, sought to unite the world through dance.
A group of professional dancers put up what most of the audience described as "a spectacular performance of a lifetime". Many dances have traversed continents for centuries, making the world full of unique identities and shared connections. The dancers demonstrated steps and techniques from almost every continent, showing the multicultural audience the connections which link them together.

The spirit, song, music, and colour of costumes all made for a rich blend to celebrate the diversity, shared connections and interdependence in the world of telecommunications. Together, the dancers joined in a dazzling finale to herald the opening of the 8th World Telecommunication Exhibition.
This spectacular opening ceremony was honoured by the participation of Kofi Annan, Secretary-General of the United Nations, Ruth Dreifuss, President of the Swiss Confederation, Yoshio Utsumi, Secretary-General of the ITU, Martine Brunschwig Graf, President of the State Council of the Republic and Canton of Geneva, and Kurt Hellström, President of Ericsson (see pages 5–14).
The event attracted top leaders from government Ministers and Ambassadors to Chief Executive Officers (CEO) of front-ranked market players, as well as the most respected industry analysts and commentators. More than 4000 people took part in the Forum programme, which encompassed a total of five summits and a number of combined sessions.
Forum sessions
The Forum opening was marked by keynotes from Yoshio Utsumi, John Roth, President and CEO of Nortel Networks Corporation, and Erkki Liikanen, the European Commissioner for Information Technology.
The Connected Society Roundtable was chaired by Musalia Mudavadi, Minister for Information, Transport and Communications (Kenya), with keynotes from Louis Gerstner Jnr., Chairman of the Board and CEO of IBM Corporation, and Jichuan Wu, Minister of Information Industry (China).
They were joined by eminent panellists who included John Manley, Minister of Industry (Canada), Conny Kullman, Director-General and Chief Executive of the International Telecommunications Satellite Organization (INTELSAT), Richard McGinn, President and CEO, Lucent Technologies, and Jun-ichiro Miyazu, President of NTT.
The Information Age session featured Yeo Cheow Tong, Minister for Communications and Information Technology, Singapore, Michael Capellas, President and CEO, Compaq Computer Corporation, and Michel Bon, President and Director-General, France Télécom.
The Development Summit opening was chaired by Chen Chimutengwende, Minister of Information, Posts and Telecommunications (Zimbabwe), with keynotes from Yoshio Utsumi, Hamadoun Touré, Director of ITU's Telecommunication Development Bureau (BDT), Tony Reis, CEO of Swisscom, and John Chambers, President and CEO of Cisco Systems.

The Policy and Regulatory Summit opening was chaired by Jean-Michel Hubert, President, Autorité de régulation des télécommunications (the French regulatory agency), with opening remarks from Roberto Blois, Deputy Secretary-General of the ITU, and keynotes from Michael Armstrong, Chairman and CEO of AT&T, Serge Tchuruk, Chairman of Alcatel, and Jens Arnbak, Chairman of the Independent Post and Telecommunication Authority (Netherlands).
They were later joined by Sarat Lallah, Minister of Telecommunications and Information Technology, Mauritius, Josefina Lichauco, Deputy Minister for Communications (Philippines), Ron Sommer, Chairman of the Board, Deutsche Telekom, Terry Matthews, Chairman and CEO, Newbridge, Richard C. Beaird, Acting Coordinator of the United States Department of State, Joăo Pimenta Da Veiga, Minister of Communications (Brazil), Pascale Sourisse, President and CEO, Skybridge LP, David Edmonds, Director-General, OFTEL (United Kingdom). The session on mobile communications featured Michael Storey, President and CEO, Inmarsat, Anthony Navarra, President, Globalstar, and Takashi Kawada, President of Matsushita Communication Industrial Co. Ltd.
The Infrastructure Summit opening was chaired by Jozef Cornu, the President and CEO of Alcatel, with keynote speeches from Carly Fiorina, President and CEO of Hewlett-Packard, Tadashi Nishimoto, President of KDD, and Werner Schmücking, Member of the Board of Siemens.
The Interactive Summit opening was marked by keynotes from Bill Gates, Chairman and CEO of Microsoft Corporation, Seiko Noda, Member of Japan's House of Representatives, and Larry Ellison, Chairman and CEO of Oracle. Jorma Ollila, President and CEO of Nokia, spoke on "new directions of interactivity and the Internet", Scott McNealy, Chairman and CEO, Sun Microsystems, focused on questions of "access and distribution for multimedia applications".
Internet and wireless technology
A number of themes dominated Telecom 99. On the one hand was the promise of a better-connected world in the new millennium. On the other were the shadows of an information gap threatening that promise. Much of the focus was on wireless technology and the Internet. In particular, wireless access to the Internet was at the heart of business strategies of most telecommunication and information technology (IT) companies.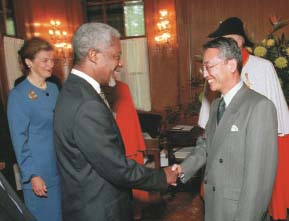 Yoshio Utsumi welcomes Kofi Annan
---
Even Bill Gates focused on third generation (3G) wireless technology. "Until now, Microsoft's mission has been to deliver applications to personal computers on every desktop and in every home", said the Microsoft Chairman. As mobile operators plan to launch new multimedia broadband networks in the early years of the next decade, Microsoft's mission is also expanding to wireless devices. Mr Gates used this opportunity to demonstrate a prototype of a new smart phone based on Windows CE, an operating system for consumer electronic devices.
IMT-2000 in the limelight
The much-heralded slogan of "anytime anywhere" communications will soon become a reality for both voice and data, thanks to ITU's work on the IMT-2000 standard. Many stands at Telecom 99 showcased IMT-2000 "prototypes" — videophones were in abundance. In this context, ITU's meeting in Helsinki [25 October–5 November 1999] to approve the radio interface specifications for IMT-2000 could not have been more timely.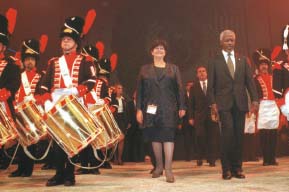 Ruth Dreifuss and Kofi Annan
---
A number of speakers at the Forum addressed 3G mobile systems. Leaders from both the IT and telecommunication industries endorsed the key role that new emerging wireless access technologies, such as IMT-2000, will play in providing cost-effective access to the Internet for both developed and developing regions of the world.
"Users do not care about technologies: they care about services, performance and costs", Mr Utsumi told reporters at Telecom 99. "Users want to be able to have easy and affordable access to IMT-2000-based services wherever they are. My message to participants at the Helsinki meeting is to keep these consumer requirements in mind so that the benefits of IMT-2000 can be extended to as many of the world's inhabitants as possible", Mr Utsumi declared.
Panel sessions with key leaders of operator associations and standards bodies, which have been rivals in the past, emphasized their current high level of cooperation with ITU to ensure timely adoption of IMT-2000 specifications that will appear to 21st century users as a single global standard.
Telecom 99 + Interactive 99 statistics
Exhibitors

1 146 from 47 countries

National pavilions

26

Exhibition space, net

100 400 m2, including upper floors

Visitors

128 858

Exhibitors' representatives

38 900

VIPs:

Ministers

Ambassadors

National delegations

CEOs

other VIPs

104

90

652

545

212

Total VIPs

603 from 161 countries

Accredited media, including
photographers and camera crews

2 508 from 63 countries and1 446 publications

Forum:

Forum delegates

Development Summit
sponsored delegates

Forum speakers

3 297 from 137 countries

150 from 79 countries


567 from 86 countries

Total Forum

4 014

Total participants

175 883
The humananitarian role of telecommunications
In a session on telecommunications for humanitarian assistance, United Nations High Commissioner for Refugees (UNHCR), Sadako Ogata, called on the telecommunications industry to support the Tampere Convention on the Provision of Telecommunication Resources for Disaster Mitigation and Relief Operations. The session was chaired by Mohamed Harbi, ITU's Head of Strategic Planning, External Affairs and Corporate Communication Units.
The ITU stand
---
Ms Ogata stressed the need for partnerships. "UNHCR is prepared to enter into standby arrangements with telecommunication companies, that could be activated in case of large emergencies, and through which resources can be made available." She added that more importantly, specialized staff should be deployed to provide support in refugee operations.
Internet Days
The show of the century closed with a weekend dedicated to the Internet. Vinton Cerf, Senior Vice-President, Internet Architecture and Technology at MCI Worldcom, shared his vision of tomorrow's Internet. Mr Cerf who helped create the Internet back in 1969 is often referred to as the "father of the Internet". At Telecom 95, he was awarded the ITU silver medal for his outstanding contribution to the development of the global information infrastructure, of which the Internet forms an integral part.
As more and more devices are introduced, users will want instant availability, reliability and the minimum possible delay in gaining access to the services supported by new devices (some of which will be wearable). He stressed that the world should not underestimate the real scope of governance which includes taxation, consumer protection, content control and intellectual property rights. He warned that for those who still believed that the Internet will go away, this will not happen and their resistance is futile.
He recommended that the next World Telecom event should bring together young keynote speakers and panellists under twenty to debate how they will want the Internet to be. For after all, it is their decisions and opinions that will count in the decades ahead. "There are a thousand paths into the future, but which one we take is no more predictable than the discovery of the transistor in 1948 or the integrated circuit in 1958", Mr Cerf said.
This final session, which was closed by Roberto Blois, called for a social global charter with principles that benefit all, not only part of the society.
ITU News will carry more articles on the show in forthcoming issues.
The 9th World Telecommunication Exhibition will take place at Palexpo in Geneva from 12 to 19 October 2003 (see page 16).
Secretary-General of the United Nations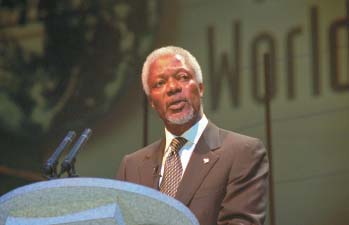 The capacity to receive, download and share information through electronic networks, the freedom to communicate freely across national boundaries — these must become realities for all people
---
I am delighted to be with you in person. I am aware that, thanks to the work of many of you [referring to the audience], I could have joined you by teleconference, webcast or satellite hook-up — to name but a few recent marvels of telecommunications. Such is the power of these technologies that flying thousands of miles on airplanes may soon be seen as a rather quaint and anachronistic practice.
But either way — whether one is an international diplomat or an Internet visionary — our mission is the same: to bring human beings closer together. We have come to Geneva to see the future — a future being crafted by the new and amazing communications and information technologies.
With their power to create new opportunities, telecommunications are a tremendous force for integrating people and nations into the global economy — the only real hope we have of overcoming poverty.
With their power to promote openness and transparency, telecommunications are leaving tyrants, polluters and ineffective governments fewer places to hide. And with their power to inspire global dialogue, telecommunications are making us more comfortable with diversity and more aware of our interdependence.
You, the entrepreneurs, executives and innovators of the telecommunications industry, have not only made markets function more effectively, you have helped to create an entirely new economy: the knowledge economy. Information is power. Knowledge is the new global asset, the new business capital, the very premise of progress. The liberating, democratizing power of information is as old as the Rosetta Stone or the Gutenberg Press. What is new today is the sense of tremendous possibility that the telecommunications revolution has placed before our eyes, on our desktops and at our fingertips — throughout the fabric of modern life.
We at the United Nations believe that this power can and must be harnessed even more closely to our global struggle for human well-being: for human rights, human development, human freedom and human security. We want to do all we can to support your work — to do our best so that you can do yours.
---
I also hope you will give your support to another ITU initiative — convening a World Summit on the Information Society
---
You are all familiar with the public face of the United Nations: our peacekeeping and relief operations; our democratization and literacy programmes; our campaigns to inoculate children against deadly diseases.
Such efforts create stable societies and lay the foundations in which markets can take root and the rule of law can spread. We know that investors do not want to risk their capital in chronically insecure neighbourhoods.
But there is also a quieter, less well-known side to our work, one that is integral to the ability of business to do business.
The World Intellectual Property Organization protects trademarks and patents for products such as computer software. Aviation, shipping, weather forecasting, postal services, statistics — all are based on norms and standards developed by United Nations agencies and entities. The ITU itself is a prominent part of this picture.
These wide-ranging technical services help make up the very infrastructure of the global economy. They facilitate the free flow of goods, finance and ideas. They pave a path towards prosperity. Without these global rules of the road, it would truly be "a jungle out there".
Of course, in important respects it already is a jungle out there. We need your help in making it less so. Three days from now [12 October 1999], the world's population will pass the six billion mark. Five out of those six billion live in developing countries. For many of them, the great scientific and technical achievements of our era might as well be taking place on another planet.
These people lack many things: jobs, shelter, food, health care and drinkable water. Today, being cut off from basic telecommunication services is a hardship almost as acute as these other deprivations, and may indeed reduce the chances of finding remedies to them. Telecommunications is not just an issue for the Telecommunications Minister of each country, but for Ministers of Education, Health and many others.
A quarter of all countries have not yet achieved even a basic level of access to telecommunications — a teledensity of 1, or 1 telephone for every 100 people. Half the world's people have never made or received a telephone call. But at least this infrastructure gap is narrowing.
The really troubling gap is the information gap. More and more it is data, rather than voices, that move across the world communications Web. My fear is that we are adding a new divide to the already well-entrenched one between rich and poor: a digital divide between the information-rich and the information-poor.
Access is crucial. The capacity to receive, download and share information through electronic networks, the freedom to communicate freely across national boundaries — these must become realities for all people. Towards that end, the ITU is hosting, here at Telecom 99, a special programme for the least developed countries. I urge the telecommunications industry to look closely at these nations. Beneath the surface and beyond the images of hopelessness you will find new markets, receptive legal and regulatory environments and genuine opportunities. I also hope you will give your support to another ITU initiative — convening a World Summit on the Information Society.
Elsewhere in Geneva today [9 October 1999] we see a perfect example of how the United Nations and the telecommunications industry can unite their missions and strengths. The "NetAid" website being launched today [9 October 1999] is believed to be the biggest ever and will enable people everywhere to help the poor simply by clicking on a mouse.
I would like to congratulate all involved in making this possible; first and foremost Cisco Systems and its President and Chief Executive Officer, John Chambers, and the United Nations Development Programme under the leadership of Mark Malloch-Brown.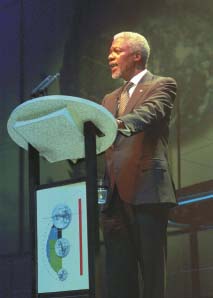 They received crucial support from KPMG and Akamai. NetAid is an inspiring global partnership. It is also yet another example of how the United Nations and the world business community are showing that our goals can be complementary and mutually supportive.
On the eve of a new millennium, we are opening a new chapter in human history — a chapter in which, more than ever before, we shall all share the same destiny.
The strength of the United Nations in tackling the challenges ahead is the strength of its universal values — freedom, tolerance, equal rights.
And it is the strength of those who work with us in promoting those values and giving them concrete meaning in people's lives.
I have long thought that the telecommunications industry is among the United Nations' most natural allies in this pursuit. The United Nations stands for "we, the peoples". You have the capacity to put power in the hands of those very people.
---
Five. out of those six billion live in developing countries. For many of them, the great scientific and technical achievements of our era might as well be taking place on another planet
---
That is why I have proposed a global compact between the United Nations and the business community — a compact to promote universal values and open markets. I want you to join me in this endeavour.
Sometimes, watching the news on television — or indeed coping with it in my work as Secretary-General — it seems as if the future will be nothing but conflict, hunger, pollution and despair.
But when I see what your industry has put on display here in Geneva, I see a quite different and much more encouraging picture. I look forward to exploring with you how we can unite these two visions — that is, how we can use the great promise of one to avoid the nightmare of the other.
"To do good and to communicate, forget not", says the Bible. Only if we obey this command will we realize the goals of Telecom 99. Only then will we arrive at the new world that telecommunications are bringing within reach. Only then will all peoples and all nations be able to "Join the World"! ?
President of the Swiss Confederations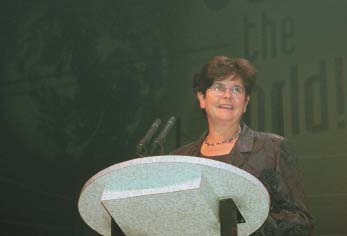 It is precisely access to the major information highways that remains a major challenge for the years ahead.
---
We gather in Geneva for the last Telecom exhibition of the century, I am delighted to have the opportunity of welcoming you on behalf of the Federal Council. I should like to thank the International Telecommunication Union for the confidence it has shown in Geneva and Switzerland, a further expression of which is the fact that Mr Utsumi has also entrusted Geneva with the organization of Telecom 2003. I am convinced that this city and Switzerland as a whole will be able to respond wholeheartedly to the ambitious expectations of telecommunications in the new millennium.
As the end of the 20th century approaches, an unprecedented acceleration is taking place in the development of telecommunication technologies. New technologies, new tools, new types of access — all the elements which go to make up the multitude of telecommunication networks have made remarkable progress in the last ten years. The world has been drastically changed by this. Perhaps we have as yet no more than an inkling of the upheaval that will be caused by the recent innovations we have experienced.
As we know, human beings are social animals, and if there is no communication, there is no society. This underlines the extent to which modes of communication mould our civilization. It also underlines the fact that when a new technology becomes available, nobody can predict exactly the use that will be made of it. What an evolution there has been from the first "Internet", designed primarily for the military establishment, to the one we know today, which makes it possible to find out about the cultural programmes of one's region, order a product from the other side of the world or exchange scientific data between researchers from every continent.
It is primarily our professional environment which has been quick to take on board the new telecommunication tools. E-mail and mobile phones have surmounted the barriers to communication created by office walls: for better or for worse, the workplace can now be any location where a modem provides a link to a network.
The life of communities and associations has also been enriched: many associations which used to be limited to their own territory are now in touch with organizations working in the same field all over the world and are exchanging experience, information and advice with them. They constitute networks capable of reinforcing both associative and campaigning activities.
Certain ideas on which our way of structuring the world is currently based will no doubt change radically. How shall we define the centre and the periphery, now that access to information can be the same everywhere? What territorial status shall we assign to our activities when a home page makes it possible to present products and services all over the world at a cost which has never been lower? What new friendships will be made from a distance, creating the impression that everyone is our immediate neighbour? Every day we see fresh uses being made of the technologies available. Every day we hear of people who have found a solution to their current problem thanks to the dense network of telecommunications and the multiplicity of tools available.
Despite these many success stories, we must not forget that many questions are still unresolved in the contemporary telecommunication world, and that access to the new technologies, far from being global, can only truly be called easy in places where the technologies of the previous generation were well established. The number of Internet users is high where telephone density is also high; the number of mobile phones is high where technology makes a high-performance mobile network possible; the modernization of networks, aimed at the increasingly rapid transfer of data, is occurring in places where the fast pace of change has been eagerly welcomed. In short, the landscape of telecommunication development displays the same contours as that of development in general.
Apart from achieving technical improvements, therefore, the work done in the next few years must solve various problems so that the benefits derived from the immense progress made are more evenly distributed, among all social classes and among all countries.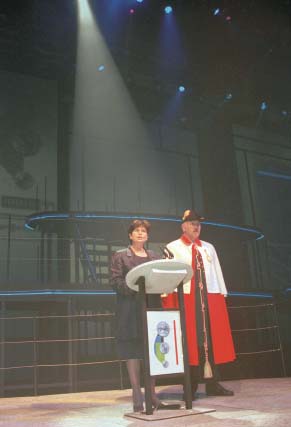 We must ensure that the huge competition in this field guarantees diversity without generating pointless technical obstacles. Access to a network such as the Internet should not be subject to a de facto monopoly owing to the immense success of a single company and its products. The standards in force for telephone networks must keep pace with technical developments for the greatest benefit of users. Both these examples are well known and I will not dwell on them; let me just say, however, that they show how the very idea of planetary communication is coming up against many obstacles which run counter to the philosophy that one readily associates with the information revolution, a philosophy based on a rhetoric of liberty and democratically shared access.
It is precisely access to the major information highways that remains a major challenge for the years ahead. Aid to development in this field is of crucial importance. I have no need to spell out the degree to which information technologies are a key element for all human activities, and indeed the degree to which they enable rational solutions to be found for hitherto unresolved problems. More and more powerful and less and less expensive, these technologies nevertheless remain out of reach for the most disadvantaged people on our planet.
---
Five hundred years ago, the invention of the printing press gave rise to the widespread dissemination of high-minded humanist ideas..
---
Such de facto marginalization may well increase disparities, whereas communication should — and could — smooth out the differences and promote economic growth. Let us make sure that the slogans do not lie, so that global communication has no boundaries and is a reality for all continents.
Well-managed competition, diversity of operators and the widest possible access: in order to ensure constant improvement of these basic parameters, Telecom and similar forums are of crucial importance. Thanks to the event which brings us together today, we can gain the latest information on technological innovations, we can highlight the problems of the future, and we can ensure intense exchanges between government bodies and private companies. I am convinced that Telecom benefits from the international Geneva environment: ITU has its headquarters here, as do WTO [World Trade Organization] and WIPO [World Intellectual Property Organization], thereby ensuring the presence of many specialists who are creating the economic climate of tomorrow.
What is more, I am convinced that Telecom can also draw inspiration from the presence of the numerous humanitarian organizations in Geneva. We could mention human rights, of which the most visible institutional advocate, the Office of the High Commissioner for Human Rights, has its headquarters in Geneva. Dissemination of those rights and the fight to ensure that they are acknowledged and observed depend on a powerful, global communication system. For such a communication system to develop freely and harmoniously, there has to be respect for freedom of expression, one of the fundamental rights laid down by the Universal Declaration of Human Rights. Five hundred years ago, the invention of the printing press gave rise to the widespread dissemination of high-minded humanist ideas. Let us have faith that the new information technologies will also allow the rapid and effective dissemination of the ideas of justice and equity.
Telecom 99 is expected to attract some 180 000 visitors. Everyone will be crowding around the kind of technology which, in the final analysis, could make this kind of meeting superfluous. The Internet makes it possible to conduct forums and transmit volumes of data which are just as powerful and infinitely lighter than all the catalogues imaginable. Mobile telephony means that people are reachable almost everywhere. Webcams bring you live images of your discussion partners. And yet we still feel the need to come together in person, despite this intensification of the means of communication. Proof, if any were needed, that there is no comparison between contact in the virtual world and live contact among people.
---
…. Let us have faith that the new information technologies will also allow the rapid and effective dissemination of the ideas of justice and equity
---
I do not wish to make any long-term predictions, but I am convinced that in the future real meetings are bound to continue and will still be much appreciated. A handshake that brings a smile in response is the sort of small gesture that only direct personal contact can generate. I am happy that Geneva is host to these priceless moments, and wish you every success for this eighth Telecom event.
President of the State Council of the Republic and Canton of Geneva
In terms of the relevant skills and know-how, the world must not be divided between haves and have-nots.
---
Geneva is delighted and proud to be once again the meeting place for those who, in every corner of the globe, design, create and develop the most efficient and forward-looking telecommunication and information media.
Four years ago, the former South African President, Nelson Mandela, reminded us how important it is that progress should not become a source of exclusion but that, on the contrary, we should facilitate universal access to our information and communication society. Together with the International Telecommunication Union, Geneva has committed itself to a strategy that is focused on achieving this objective. Thus, we have made every effort to enable all concerned to participate in this world event, in particular through the granting of fellowships. We also note the degree to which ITU's commitment to facilitating electronic commerce in all regions of the world can serve to boost the economies of the emerging countries. On a more modest scale, at the Geneva level [on 11 October 1999] the authorities [...] put forward their strategy aimed at ensuring democratic access for all those who live in the Canton to the ever-expanding range of services and information that can be obtained through the Web.
---
We are anxious to satisfy the new requirements engendered by the growing success of Telecom, in particular by building hall 6 in response to universal demand
---
From distance learning to online administrative services, via the full range of information and communication opportunities that can be opened up by human activity, the aim must be to provide optimum, high-speed technical facilities and to ensure the disappearance of physical and social barriers, as a matter of equity for all citizens.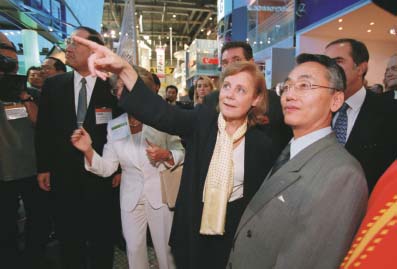 However, our task as political authorities goes far beyond that horizon. In terms of the relevant skills and know-how, the world must not be divided between haves and have-nots. Training establishments should therefore be more closely involved in all aspects of use of the new technologies, it being through knowledge that information and communication are mastered.
During the industrial era, human beings gradually freed themselves from the constraints exerted by machines and learned to master them. In the age of the information society, we have to tread the same path in the area of communications. This is a political, economic and social responsibility which concerns us all.
Telecom 99 carries with it the expectations which we today place in the new technological advances presented on the stands. Geneva will welcome you again in four years time, and we are aware of our responsibilities in that regard. We are anxious to satisfy the new requirements engendered by the growing success of Telecom, in particular by building hall 6 in response to universal demand.
It is the hope of all of us that, by that time, all the innovation, creativity and ingenuity brought together for Telecom 99 will have served to transform the hopes we place in technological development into genuine benefits in terms of living conditions and conditions of communication for all inhabitants of the world.
More than 2000 years ago the Greek philosopher, Zeno, wrote: "Nature gave us two ears and only one tongue so that we could listen more and speak less.
"At the dawn of the third millennium, may Telecom 99 successfully take up the challenge of listening and communicating, no matter how many words are spoken.
President of Ericsson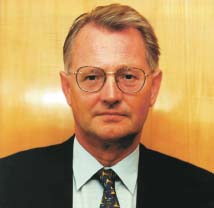 We at Ericsson are committed to openness and diversity.
---
Joining the world and making it more mobile is at the heart of the vision of Ericsson for the future. We hope it is a vision shared by everyone in the industry, and everyone connected with it.
We all know that communication is vital if we are to share ideas. And we also know that the ability to share ideas is a necessary ingredient for progress, no matter where we are in the world.The challenge, for Ericsson and for the industry as a whole, is to make the free exchange of ideas ever easier, creating the potential for true progress. Progress not just in terms of processing power and industrial achievement, but progress from which all people can benefit: in health, education, nutrition and ultimately in human well-being around the world.
So what can we in the industry do to achieve the full potential from improved communications?
The first thing we must do is to keep our eyes and ears wide open in order to understand the needs and desires of users around the world, and that is how our technical developments will influence society. There is enormous potential for good, but we must at the same time recognize that there is inevitably a potential for ill.
The dangers are all too easy to identify. New technology can put tremendous power into the hands of governments and corporations. It must not be abused. Unwarranted restrictions must be eliminated. Everyone must have access to the information that is now so readily available.
All of us from industry, regulatory bodies and governments have a role to play in ensuring that telecommunications develop in the right direction to the benefit of all. It is an enormous responsibility, but at the same time it offers tremendous opportunities.
We at Ericsson are committed to openness and diversity. In the past, too many voices have gone unheard because they did not have the means to communicate. As a result, too many ideas have been missed. With the technology we have within our grasp today, that no longer needs to be the case. Affordable solutions that let you communicate, no matter where you are or what time it is — and without the restraints of physical connections — are increasingly available around the world.
We must all work together to make sure that these advances continue. For it is through diversity and openness that the sparks of inspiration will fly which will make the world a better place.
The first step towards mobile Internet: Ericsson paves the way
Ericsson, as the founder of the wireless application protocol (WAP)*, is now taking the lead in WAP development. It has commercially launched the world's first WAP terminal.
WAP (a very popular acronym at Telecom 99) will be part of everyday life when operators or service providers have WAP gateways in their systems, allowing consumers to gain access to WAP services.
WAP is the first step towards mobile Internet and third generation (3G) mobile technologies. Mobile Internet will not only make the current Internet available from mobile terminals, but is expected to create a whole new set of services that will be available anywhere, anytime. These services include banking, shopping, ticketing and entertainment.
A first, vital step in the migration to 3G for GSM and TDMA operators is the launch of general packet radio services (GPRS)** which introduces packet data transmission to the network. A packet-switching core network will give users the feeling of being "always online", always connected.
WAP today runs over regular mobile systems. This means that the data transfer speed is limited. Within the next couple of years, mobile Internet is expected to develop with GPRS and real 3G technology. When that happens, users will have instant WAP access with much faster connections.
WAP applications that Ericsson believes will take off include E-mail, voice messaging, calendar, electronic commerce, banking services, city guides, ticketing, restaurant reservations, etc.
Already, visitors to Telecom 99 were able to experience wireless 3G applications such as video conferencing, browsing the Internet and booking theatre tickets as well as listening to and downloading music from the Web — all while being fully mobile.
* WAP is a microbrowser especially developed for mobile use. WAP is the de facto worldwide standard for providing Internet communications and advanced telephony services on digital mobile phones, pagers, personal digital assistants and other wireless terminals.
** In June 1999, Ericsson launched the GPRS Applications Alliance (GAA), an open-membership, cross-industry initiative designed to foster the creation, testing and marketing of wireless data applications based on GPRS technology. On 16 October 1999, Ericsson announced IBM, Lotus, Oracle, Palm Computing and Symbian as the initial participants in the GAA.