Background

In 2006, ITU-T will celebrate 50 years of making the standards that have played a massive part in shaping the information and communications technologies (ICT) and services of today.

In order to mark this momentous milestone, ITU-T will stage a unique one-day event bringing together some of the most important players in ICT, 20 July 2006.

ITU-T's 50 Year Anniversary will give an unprecedented opportunity to hear what some of the top executives from the world of ICT have to say about the future of this remarkable industry.

The event, while celebrating the past achievements of ITU-T, will be forward looking in focus. A main feature of the day will be a panel discussion on the future of ICTs moderated by a key industry pundit. The panel will consist of CTOs and other senior level people from some of the world's major ICT companies. In addition CEOs from some of the world's biggest ICT players will be invited to give keynote speeches.

Formerly known as the CCITT (International Telegraph and Telephone Consultative Committee), the body was established in 1956 and renamed as ITU-T in 1993. In that time ITU's standards work has substantially shaped the way that we live and do business.

Telecommunication plays an enormous role in our day-to-day lives, and if it wasn't for ITU-T Recommendations making a simple telephone call would be impossible. Don't underestimate what that would mean. Without telecommunication business would grind to a halt, banks would not be able to transfer money, orders could not be placed and air traffic control systems would fail. Telecommunication also has a vital role to play in emergency communications and disaster relief and has been a crucial tool in international diplomacy. Simply put, life without telephony is almost unimaginable. And as we have moved from fixed-line telephony into mobile telephony and the Internet, so has ITU's work moved to accommodate and underpin these technologies that are becoming equally as important to the world economy.

Sponsorship:
Cisco Systems: Coffee Breaks and VIP Lunch
NTT: Evening reception

Agenda

Programme
Morning:
Welcome: Yoshio Utsumi, Secretary General, ITU
CEO Keynotes: CEO of China Netcom, CEO and President of NTT
Address: Houlin Zhao, Director, Telecommunication Standardization Bureau (TSB), ITU
Afternoon:
CTO Roundtable: Alcatel, BT, Cisco, Deutsche Telekom, France Télécom, KDDI, Korea Telecom, KPN, Nortel, Rostelecom, Siemens, Swisscom, Telecom Italia and Telefónica I+D

News

[CaRP] XML error: not well-formed (invalid token) at line 20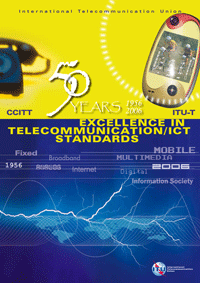 Vote!
Vote for the most influential standards work from ITU-T
ITU work is behind many of the worlds most prevalent information and communications technologies. Choose here from our shortlist which you think has best shaped the ICT world of today, or feel free to suggest your own idea.