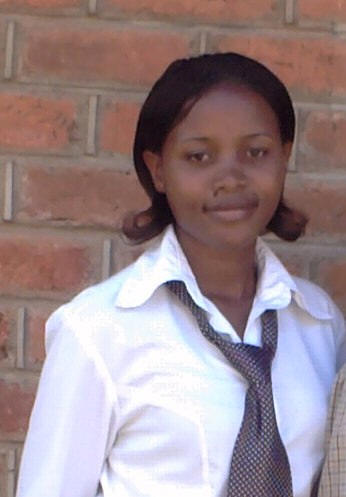 • YES Winner/Sponsor: 2008 (Spain Administration)
• Name/First Name: MANTHIMBA Queen
• Age: 21
• Country of Origin: Malawi
• Country of Study: Malawi
• Present Country: Malawi
• Current degree: Advanced Diploma in Computer Studies,
National College of Information &
Technology (NACIT)

I learnt about the Youth Education Scheme Project from the local newspapers. Then, I had no idea that the same ITU about whom we were learning in class is the one running the YES Project. I participated in the competition and luckily enough the YES granted me with a scholarship in July 2008 to complete my Advanced Diploma and BSc Honors Degree in Computing and Information Systems.

Being a YES winner has affected me in so many ways. It has eliminated my fears of not completing my education due to luck of funds. I am meeting people who encourage me so much, because ever since I got this scholarship I am exposed and involved in new experiences which will open new doors for me.

As a good citizen of the country, I must contribute to the country's development in some way, since there is need for women empowerment in this country. Thus, I am working very hard to become one of the most educated women in my country, Malawi, and the YES Project has paved the way for me to success.

Being a YES winner has also taught me that in everything I do, I must be determined rather than have to affirm my purposes of doing things. I think many people, especially girls of my age, have taken this as an opportunity to learn and discover modern things.

Currently, I am studying my International Advanced Diploma in Computer Studies at National College of Information & Technology (NACIT) Blantyre, Malawi. After completing these studies, I wish to work within an Organisation or the Government in the IT field, but most of all, I have this desire of becoming an IT Lecturer, I want to teach others Technology in Malawi.

Finally, I thank God for this opportunity through the ITU YES Project, it is so encouraging and many will benefit from this project.