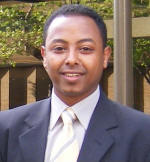 • YES Winner/Sponsor: 2008 (Spain Administration)
• Name/First name : ADANE Girma Fanta
• Age : 29
• Country of Origin : Ethiopia
• Country of Study : Australia
• Present Country : Australia
• Highest degree obtained : Bachelor of ICT Engineering, University of Technology, Sydney


I learned about ITU's YES Scholarship Project from an e-mail that was sent to me by ITU as being a member of ITU Youth Alumni 2003.

Being a YES Scholarship winner, I have got the opportunity to focus on my education and achieve good results. It is definitely a life changing experience; I can say that without the YES Scholarship it would have been difficult for me to continue my study, especially in the current economic conditions.

Currently I am in my penultimate year studying ICT Engineering at University of Technology Sydney (UTS) in Sydney, Australia.

My future career plans can be categorised as short term and long term plans.
On the short term plan I would like to work in an organisation that allows me to utilise my skills and abilities in the Information and Communication Technology; to work for ITU as I am inspired by its contribution to our society, especially I am interested in ICT standards, policies and regulations.

On the long term, I am interested in project management and making a difference by working in my country or any other developing country preferably in Africa.

The YES Scholarship is a life changing program and I would like to congratulate ITU and the Spain administration for their outstanding job. I will encourage ITU to continue on this program and make a difference in people's life.