The Africa 2004 Youth Fellows were challenged by the experts and panellists who participated at the Youth Forum session on "Finance and Business Opportunities" to propose a business idea that could be converted by them into a profit or non-profit business in the African Region.
The Youth Fellows competed for «investment capital» from the ad-hoc Africa Youth Forum Investment Bank "AYFIB". The shareholders of the bank were individuals from INTELSAT, Vodafone, ICANN, the ITU Africa Regional Office, the ITU Arab Regional Office and Compassrose International. The banks fund grew to 220U$D, and was then awarded to two 1st prize winners (50U$D/each) and six 2nd prize winners (20U$D/each) as follows: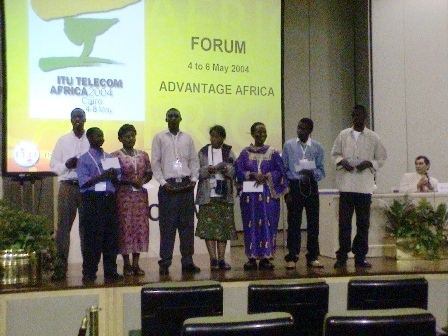 The first prize was awarded to:
The second prize was awarded to:
The winners were encouraged to use the price money as a first step towards building their proposed business project. They were also asked to keep the shareholders informed about the implementation of their project.