Mr Leslie J. Martinkovics
---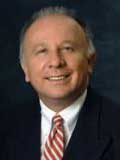 MR LESLIE JOSEPH MARTINKOVICS
Director, International Regulatory Affairs, Verizon
Leslie Joseph Martinkovics is Director of International Public Policy and Regulatory Affairs for Verizon Communications.
He is the company's primary point of contact to multilateral organizations such as the International Telecommunications Union (ITU), where he is one of the Vice Chairs of Study Group 3 on international charging and tariffing issues, as well as a representative at the Inter-American Telecommunication Commission (CITEL). Leslie is the current chairman of the U.S. ITU Association (USITUA) and a Vice Chairman of the United States Council for International Business (USCIB) ICT Policy Committee.
Leslie has extensive experience in international telecommunication, IP and radio frequency spectrum policy and regulatory matters, involving advanced fiber and wireless (LTE) networks. He has led his company's efforts at key conferences and summits, such as the ITU Plenipotentiary and Council meetings, the World Summit on the Information Society (WSIS) and the Internet Governance Forum (IGF). He has written extensively on Internet governance, convergence and innovation issues, as well as standards development for global networks.
---