Mr Carlos REBELLÓN
---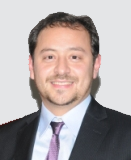 MR CARLOS REBELLÓN
Mr. Carlos Rebellón is Commissioner at Commission of Regulation of Communications CRC from Colombia.
Mr. Rebellón has 9 years working for regulatory and policy authorities and companies from Telecoms industry in Colombia. Ha has lead the design of several high impact regulations for his country such as tariff liberalization process, mobile market regulation and Pay TV reform from its different positions. Mr Rebellón is a distinguish economist on ICT sector in Colombia and has a Master Degree on Economics, a Master on Natural Resource Economics and a Master on Communications Management.
Currently, Mr. Rebellón is also professor on Microeconomics, Telecoms Regulation and Strategy.
---