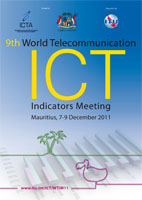 Download the Final Report
The 9th World Telecommunication/ICT Indicators meeting took place from 7-9 December, 2011, in Port Louis, Mauritius.
The Meeting was organized by the Telecommunication Development Bureau (BDT) of the International Telecommunication Union (ITU) and hosted by the Information and Communication Technologies Authority (ICTA) of Mauritius.
The meeting addressed, among others, the following topics:
1. Measuring broadband capacity, quality and speed
2. Measuring ICT sector investment, revenue and value added
3. Revisions to the indicators on household ICT access and individual ICT usage
4. Emerging issues such as measuring e-waste
5. Results of the work carried out by the Expert Group on Telecommunication/ICT Indicators (EGTI) and launch of the ITU Handbook on infrastructure indicators
The meeting, open to all the ITU membership, was primarily addressed to those responsible for ICT statistics in relevant Ministries, regulatory agencies, telecommunication operating companies and national statistical offices. Experts interested in the subject of information society measurements were also welcome to attend the meeting.