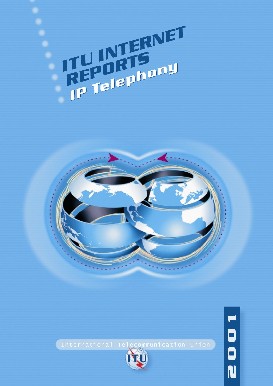 ITU Internet Reports: IP TELEPHONY
This new addition to the ITU Internet Reports series looks at the topic of IP Telephony. Internet Protocol (IP) Telephony is rapidly reaching the top of the agenda for the telecommunications industry worldwide. The key issue that has gained the attention of policy-makers, regulators, and industry alike is that the Internet, and other IP-based networks, are increasingly being used as alternatives to circuit-switched telephone networks. The many different `flavours' of IP Telephony provide, to varying degrees, alternative means of originating, transmitting, and terminating voice and data transmissions that would otherwise be carried by the public switched telephone network (PSTN). In many countries it is now possible, using a standard telephone, to call almost any other telephone in the world by means of IP Telephony. By 2004, this could account for up to 40 per cent of all international traffic. Because these calls are mainly carried outside of the PSTN, they are also outside the regulatory and financial structures that have grown up around it.
The transmition of voice over IP-based networks, with its challenges and associated opportunities, of voice and data integration, etc., constitutes a milestone in the convergence of the communications sector. Accordingly, IP Telephony has been selected as the topic of the 3rd World Telecommunication Policy Forum (WTPF), to be held in Geneva, 7-9 March 2001.
This report discusses and analyses many of the issues surrounding IP Telephony. Chapter one, `Why IP Telephony', defines IP Telephony and looks at the different forms that IP Telephony can take. Chapter two, `Technical Aspects of IP Telephony', suggests more specific definitions and looks at the interworking of IP-based networks with circuit-switched networks. Chapter three, `Economic aspects of IP Telephony', looks at the reasons for the popularity of IP Telephony, which mainly stem from the fact that it offers price and cost advantages over conventional forms of telephony. Chapter three also considers the likely impact on public telecommunication operators. Chapter four, `Regulatory aspects of IP Telephony', discusses the different regulatory approaches to IP Telephony, and the methods used to categorize it within those regulatory structures. Chapter five, `IP Telephony in practice', presents summaries of a series of country case studies. Finally, Chapter six, `Conclusions', brings these different themes together and concludes that the IP Telephony industry is now approaching maturity.
Figure 1: Taking off
Voice over IP market growth, 1997-2001 (left), and carrier market shares, 2000 (right)
Source: ITU, adapted from TeleGeography Inc. and Company annual reports.