Figure 1: The changing international telecommunications traffic market
Percentage of the international telecommunications market open to competition, 1990-2005, and regional shares of international traffic market, 1997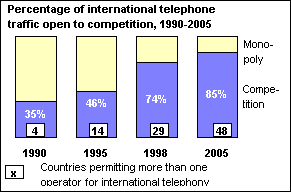 Note: In the left chart, the figures relate only to the commitments made by WTO Member Countries. This is almost certainly an underestimate of the true level of global competition. In the right chart, LAC = Latin America and the Caribbean.
Source: ITU "Telecommunication Regulatory Database", ITU/TeleGeography Inc. "Direction of Traffic" Database and WTO.
In the emerging telecommunications environment, international telephone calls are increasingly treated like domestic ones. This reflects new trade principles and network economics. The economic and technological forces underlying the changing status of international calls are best demonstrated by the Internet. The price paid for an Internet session is the same whether information traverses international borders or not. The longer that international telephone calls continue to deviate in price from domestic telephone calls, the more that international voice and fax traffic will shift to the Internet. As a result, prices for local calls are likely to become the base price for more and more international communications.
In economies such as Hongkong SAR and Germany, these trends are already in evidence (Figure 2). In the former, the monthly volume of dial-up Internet use is now three times higher than the total for international traffic (outgoing and incoming combined). In the latter, Deutsche Telekom's calls to its Internet service almost doubled in 1998 whereas its international traffic volume fell.