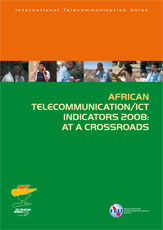 African Telecommunication/ICT Indicators 2008: At a crossroads
8th edition 2008
Download the flyer (pdf format)
Launch of the African Telecommunication/ICT Indicators Report, Africa Telecom, Interview by Telecom TV.


On the occasion of ITU Telecom Africa 2008 (12-15 May 2008, Cairo, Egypt), ITU published the 8th edition of the African Telecommunication/ICT Indicators. The first edition was prepared 18 years ago, for the African Regional Telecommunication Development Conference in Harare, Zimbabwe in December 1990. At that time, there were only 8.6 million telephone subscribers in Africa, most of them in Northern Africa and South Africa. Norway had more telephone subscribers than all of Sub-Saharan Africa and mobile communications was virtually non-existent with only six networks in operation. Outside of Mauritius and South Africa, there were none in Sub Saharan Africa. No African country was connected to the Internet in 1990.
Today, the situation has changed dramatically, with all countries having mobile networks and all connected to the Internet. The number of mobile subscribers has increased dramatically over the last few years. In 2007, the African continent added over 60 million new mobile subscribers and mobile represents some 90 percent of all telephone subscribers, and mobile penetration in the region is close to 30 percent .
Although it is tempting to get excited about ICT growth in Africa, the stakes have risen. While two decades ago, achieving a teledensity of "one" seemed like a major milestone, the new yardstick is much higher. The rest of the world has also not sat still. So while Africa has made impressive strides, it is still far behind other regions. The continent is at a crossroads. While there has been much success, complacency risks dooming the continent to last place in the ICT race. The alternative is to find the right mix of policy, economic and technical ingredients and committed entrepreneurs that will not only sustain Africa's ICT growth, but supercharge it to the level of other regions.
The 2008 edition of the African Telecommunication/ICT Indicators Report looks at the status of Africa's current telecommunication and Information and Communication Technology sector, including mobile and Internet/broadband developments. Given low level of individual and household access to ICTs, the report highlights the need for universal and community access. It also addresses the World Summit on the Information Society's target to connect villages with ICTs, and includes information on the availability of ICTs in Africa's villages. Finally, the report examines various factors that are considered particularly important for connecting Africa, including the regulatory environment and tax schemes. Based on the analysis, the report will make a number of policy recommendations.
Beside the analytical part, the report includes 21 regional tables covering key telecommunication/ICT indicators (2006/2007 data), 53 individual country pages with a five year profile from 2003-2007, and a directory with names of telecommunication ministries, regulators and operators in the region.
Number of pages: 146