Newly released data from ITU's ICT Price Basket (IPB) show that ICT services are getting more affordable worldwide
NEW
Key highlights
Consumers are paying 18% less for ICT services than they were two years ago
The price for high-speed Internet connections dropped by 52% between 2008 and 2010, compared to a 22% drop in prices for mobile cellular services (Table 1)
In developing countries, fixed broadband prices dropped by 52%, compared to 35% in developed countries (Chart 1)
Countries with the relatively cheapest broadband prices are high-income economies and include Monaco, Macau (China), Liechtenstein, the US and Austria
In 2010, the cost of ICT services averaged 1.5% of GNI per capita in developed countries, compared to 17% of GNI per capita in developing countries (see Chart 2)
Customers in 31 countries – all of them highly industrialized economies – pay only the equivalent of 1% or less of average monthly GNI per capita for an entry-level broadband connection but in 19 countries, a broadband connection costs more than 100% of monthly GNI per capita.
Relative overall prices decreased by over 50% in Azerbaijan, Bhutan, Sri Lanka, Bangladesh, Venezuela, Guyana, Uganda and Austria (Table 2, left)
Nine out of the top ten countries showing the greatest decrease in the ICT Price Basket value were from Africa - of them had high values (i.e. high prices) to begin with (Table 2, right)
While ICT prices are falling in all regions of the world, the greatest price drops occurred in Africa, where fixed broadband prices fell by over 55% and mobile cellular prices by 25%...
Table 1: ICT Price Basket and sub-baskets, 2008 and 2010

Source: ITU
Chart 1: Fixed broadband sub-basket by level of development,
2008 and 2010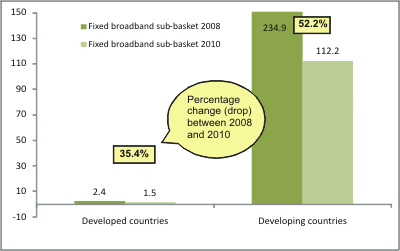 Source: ITU
Chart 2: ICT Price Basket by level of development, 2008 and 2010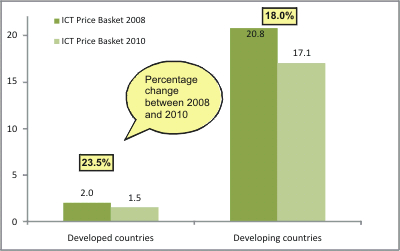 Source: ITU
About the IPB
ITU's ICT Price Basket (IPB) is a composite affordability measure based on three sub-baskets – fixed telephone, mobile cellular and fixed broadband Internet services – and computed as a percentage of average Gross National Income (GNI) per capita. As a comprehensive benchmarking tool, the IPB monitors the relative price of ICT services and provides an indication of how affordable services are across countries, and over time.
Published annually, the latest IPB compares 2008 and 2010 tariffs at global and regional levels and highlights the difference in prices between developed and developing regions. Covering 165 economies, it is the only price basket to monitor the affordability of ICT services worldwide.
Data from ITU's 2010 IPB were released at the WSIS Forum 2011. The full details and results of the 2010 IPB will be released in September 2011, in the Measuring the Information Society Report 2011.
Table 2: Ten economies with the greatest decrease in the ICT Price Basket,
sorted by relative change (top) and value change (bottom)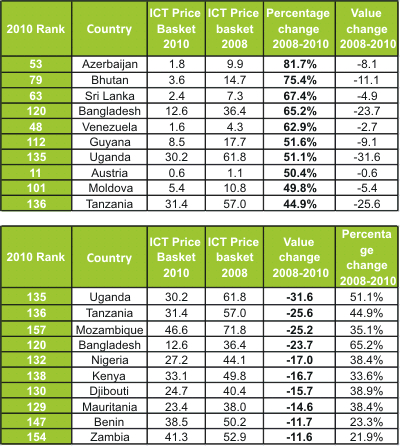 Source: ITU
Chart 3: ICT sub-baskets by region and by level of development,
2008 and 2010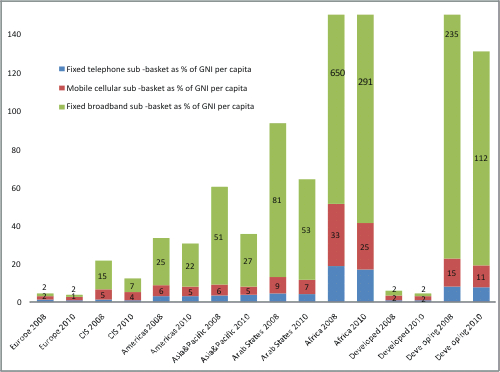 Note: The IPB is a composite basket that includes three tariffs sets, referred to as sub-baskets: fixed telephone, mobile cellular and fixed broadband Internet services. The IPB is the value derived from the sum of the price of each sub-basket as a percentage of a country's monthly GNI per capita, divided by three. The cost of each sub-basket as a percentage of monthly GNI per capita is limited to/capped at a maximum value of 100, so that the final price basket value may vary between a theoretical 'zero' (ICT services are for free) and 100 (the price of all three sub-baskets is equal to, or exceeds, the monthly GNI per capita). However, the three sub-baskets , as presented in this chart, are not capped at a maximum of 100 and in the case of fixed broadband, some countries exceed 100 (i.e. the cost of fixed broadband services exceeds the monthly GNI per capita).
Source: ITU