Turkey ICT Profile
Views expressed are those of the author and may not represent those of the International Telecommunication Union, its members or the government of Turkey
March 2002
The Republic of Turkey, straddling Europe and Asia, is inhabited by 66.3 million people.[1] Although three quarters of the population resides in urban areas, agriculture still plays a significant role in the country. It contributes 16 per cent of GDP and employs around 40 per cent of the workforce. Turkey, an upper middle-income economy, had a per capita GDP of US$ 3'090 in 2000.[2]
Turkey has traditionally had a fast growing economy. However growth has recently stuttered due to inflation, non-performing bank loans and public debt. External shocks such as the devastating 1999 earthquakes and aftershock of 11 September 2001, have also affected the economy. GDP contracted by 8.5 per cent in 2001. In order to support economic reform, the International Monetary Fund (IMF) has loaned Turkey US$ 16 billion, one of the largest the IMF has ever extended.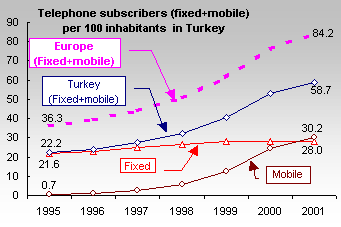 The Turkish telecommunication sector is also engaged in a reform process. A regulator, the Telecommunications Authority, was recently created.[3] On and off plans to privatize Türk Telekom, the incumbent telecommunication operator, finally look set to proceed as called for in Turkey's Letter of Intent with the IMF.[4] It foresees selling at least 49 per cent including a stake to a strategic foreign investor. Furthermore, the expiration of Türk Telekom's fixed telephone line, domestic long distance and international telephone monopoly has been brought forward to 31 December 2003. The Ministry of Transport is responsible for telecommunication policy including issuing licenses.
Turkey's telecommunication history is over a century old. It was one of the founding members of the predecessor organization of the ITU in 1865. A telegraph line was installed in 1847 and the first automatic telephone exchange in the Balkans was installed in Ankara in 1926. At the end of 2001, there were some 18.9 million fixed telephone lines in service, for a teledensity of 28. All of Turkey's some 36'000 villages have a telephone (accomplished in 1998). Household telephone penetration is estimated at 87 per cent.[5]
Turkey's mobile market has grown tremendously. Türk Telekom launched an analogue NMT network in 1986. In 1994, two digital GSM operators, Turkcell and Telsim, launched services in a revenue sharing arrangement with Türk Telekom. This was converted into a 25-year license in April 1998 with each company paying US$ 500 million. Turkcell's owners include the Çukurova Group, the third largest industrial conglomerate in Turkey and Sonera, Finland's largest mobile operator. Telsim is owned by the Uzan family, one of Turkey's wealthiest. The mobile market was further opened in 2001 when two new GSM 1800 operators introduced service. Aria, owned by Telecom Italia Mobile and a large Turkish bank, launched in March. In December, Türk Telekom's Aycell began operations. At the end of 2001 Turkey had 20 million mobile cellular subscribers surpassing fixed telephone subscribers. One forecast puts the number of Turkish mobile subscribers at 30 million by 2005 for a mobile density of 45 per 100 inhabitants. Mobile population coverage was 64 per cent at the end of 2000.
Estimates of the size of Turkey's Internet market vary. An average of different estimates suggest that Turkey had some three million Internet users in 2001 for a penetration of 4.5 per cent of the population. There are some 65 ISPs of which the largest is Superonline, partly owned by Turkcell. Türk Telekom is also active in the market through its national backbone (Turnet), international gateway and dial-up service (Ttnet, which features a IP Dial Tone service allowing nationwide Internet access by dialing 146 without prior registration; one hour peak is TL 3 million).
---