Projects in the Europe Region
Types of ICT Applications Projects

e-Government

e-Environment
e-Health
e-Learning
e-Strategies
e-Employment
e-Commerce

e-Agriculture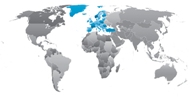 Bulgaria
e-Government
Project launched for e-Government in Bulgaria (2002).
e-Government
The e-Government project "Building Security and Confidence in Government Services for Bulgaria" aimed at ensuring that the use of Internet for mission-critical transactions provided the planned solutions to ensure that only authorized government officials have access the sensitive data. It looked at addressing concerns about reliability, origin and integrity. In addition to the security issues, the project also evaluated the of the Internet for critical government services to ensure that it provides trust and integrity in both the data and the transactions (2004).

Bosnia and Herzegovina
e-Government
This project aimed to achieve better coordination, efficiency and transparency of the government through horizontal and vertical integration of all level of public administration state, entity, cantonal, municipal. This involved: changing the way government works; creating conditions for agencies working together, using technology to provide individuals and businesses with government services and information; ensuring public sector was able to make best use of information and technology to improve service delivery, internal performance and overall capability, and facilitating necessary organization changes, development of networks and relationships for the above to occur (2004).
e-Health
ITU provided overall project coordination to setting up a real-time dedicated video-conferencing link based on ISDN between hospitals on the islands of Malta and Gozo allowing clinical case discussions and interactive training (Press release, 1998).

Turkey
e-Health
The strategic goal of the project was to improve healthcare services in Turkey by developing a "Highly Secure National Health Information Medium" that enables healthcare providers (primary and secondary healthcare), health professionals and citizens, easy and safe access to health related information through ICTs. The project took into consideration the development of national standards for health information management and information technology that are compatible with international standards (2004).
e-Health
ITU supported the implementation of the Government of Turkey's e-transformation project with e-health components by providing expert assistance in project definition and identification of technology specifications and strategies. ITU provided assistance to the Government in assessing their needs, recommending strategies and policies, as well as providing guidance in the definition of the specifications and requirements for implementation of the country's e-health programme. Upon the implementation of a secure health information system of the Turkish national Health Network projects, citizens, medical institutions, as well as healthcare professionals, will have the opportunity of using information technologies to store, disseminate and access sensitive health data on a national scale. The Pilot Family Physicians Information Systems (FPIS) has been developed and has started operation in the two cities of Duzce and Eskisher (2006).