Projects in the Asia and Pacific Region
Types of ICT Applications Projects

e-Government

e-Environment
e-Health
e-Learning
e-Strategies
e-Employment
e-Commerce

e-Agriculture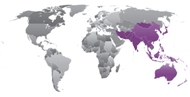 Bhutan
e-Government
Communications within and between Ministries is handicapped by the fact that Ministry buildings are usually not co-located. Therefore, if ICT solutions can be modeled within MoIC, there is potentially a great multiplier effect when applied to all other Ministries. This project aimed to address these issues by piloting both hardware and software applications within MoIC, which improved the timeliness and relevance of information published on the Ministry website and use ICT to improve the communication between offices within the Ministry. The infrastructure elements interconnect all independent LANs of various departments and form an integrated network platform, to facilitate seamless resource sharing, information dissemination, internal communication and sector specific management (2004).
e-Health
BDT launched a pilot project for setting up a multipurpose community telecentre, which enabled to establish a teleradiology link through a dedicated line between the regional hospital in Jakar to the national referral hospital in Thimphu (1999/2000).
Marshall Island
e-Government
BDT provided support in implementing e-governance applications in the Marshall Islands (2006).

Mongolia
e-Commerce
This project involved the implementation of infrastructure for digital certification and e-Transactions capable of delivering e-Services. The implementation of this project was based on a 2-year ITU-industry partners technology (e.g. PKI). The project also included deployment to secure e-Transactions (2002).
e-Commerce
The Mongolian Chamber of Commerce and Industry (MNCCI) is responsible for the promotion and development of a pro-active and competitive private sector through various services provided to its 600 members. ITU organized a workshop assist MNCCI in building awareness and local capacity in e-Commerce technologies, and policies and strategies for the business environment. During the workshop several topics ranging from: technology trends, strategies and drivers, e-Business security and trust, mobile commerce, e-Payment systems and general policy issues for e-Business were covered. A roadmap was elaborated to facilitate the implementation of the relevant ICT applications at MNCCI aimed at realizing the vision of transforming MNCCI into an e-Chamber (2004).
e-Government
The project aimed to assess the needs in the technology, policy and legal domains for the promotion of e-Government service in Mongolia. This involved the implementation of e-Government infrastructure to enhance government services to citizens, enable cost-efficient and secure communication and exchange of government documents and provide solutions for the electronic payment of government services by citizens. Activities included in the project aimed at reconfiguring a LAN and establishing an efficient intranet and implement an intranet based electronic collaboration application within the MOI and to formulate the outcome of the project as a model for other government organizations. The project complements the efforts of the Government of Mongolia to facilitate the development and implementation of the e-Government applications (2003).

Nepal
e-Health
With the plan of the Government of Nepal to design and formulate an e-Health master plan for the provision of quality health services in the semi urban and rural areas, through the deployment of existing telecom infrastructure, BDT provided an expert to develop an extensive master plan for e-health to guide the strategic and operational procedures in setting up an e-health network in an attempt to deliver basic health services in Nepal (2007).
e-Health
e-Health initiatives are under implementation, connecting four remote village community health centres to the city hospital for the provision of telemedicine services with the assistance of expert doctors (2009).

Viet Nam
e-Commerce
Vinakey, the first Asian electronic commerce centre operational at the Viet Nam Trade Network. As part of the ITU-WTC Geneva-WISeKey Agreement, this collaboration allowed for improved interconnection of major e-Commerce projects in both developed and developing countries (2002).