Projects in the Arab Region
Types of ICT Applications Projects

e-Government

e-Environment
e-Health
e-Learning
e-Strategies
e-Employment
e-Commerce

e-Agriculture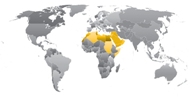 Syria
e-Learning
The project aimed to facilitate the adoption of policies aimed at promoting the use of Arab language and the creation of Arab content for e-Education. Hosted by the government of Syria, ITU organized a regional seminar on e-Education in Damascus Syria from 15-17 July 2003. Bringing together key players from the Arab region, this seminar addressed the challenges to the use of the Arabic language in ICTs (2003).

Iran
e-Commerce
The Government of the Islamic Republic of Iran funded the "Ministry of PTT e-Commerce project for D-8 Members". The project benefited Bangladesh, Egypt, Indonesia, Iran, Malaysia, Nigeria, Pakistan and Turkey (2002).
Pakistan
e-Commerce
With the collaboration of the Pakistan Telecommunication Authority (PTA), a "Basic e-Commerce training" was organized in Islamabad (March-April 2001) for senior managers from the PTA, the Pakistan Telecommunication Co. and Internet service providers' representatives. The training introduced basic concepts of e-Commerce, explained technology policy issues and strategies and highlighted the need for a legal environment for e-Commerce (2001).