REGIONAL PRESENCE
ITU's policy on regional presence is designed to enable the Union to work as closely as possible with its Members. It also serves to assist the ITU General Secretariat, the Development Sector, the Radiocommunication Bureau and the Telecommunication Standardization Bureau in fulfilling their missions. Our aim is to provide support for all the Unionís activities, helping implement its strategic and policy objectives, through direct contact with national authorities, regional telecommunication organizations and other relevant bodies in the Region.
The Regional Office for the Americas (Brasilia, Brazil) and its three Area Offices (Barbados, Chile and Honduras) assist and encourage developing and least developed countries, through inter and intra regional cooperation, to mainstream activities that are essential for them to meet their development goals.
WORLD TELECOMMUNICATION AND INFORMATION SOCIETY DAY 2013
Theme 2013: ICTs and improving road safety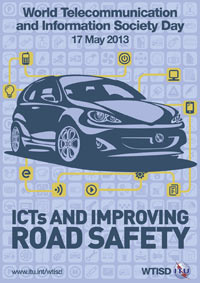 35 Member States of ITU within the Americas Region.
Over 115 Sector Members including private sectors, industries, scientific organizations and regional organizations.
Visit ITU-D Sector Membership Portal
Upcoming Meetings:
Highlighted Meetings
Training Course on Conformance and Interoperability Testing, 24-28 June 2013, Campinas (Brazil)
Capacity Building: ITU is offering human resources capacity building in the regions on conformity, interoperability and testing. This training programme is organized in cooperation with other relevant regional and international organizations to clarify fundamental aspects as: accreditation, certification, mutual recognition agreements and also to explore the possibility of establishing test centers in developing countries.
These training activities being delivered by ITU in the regions aims at disseminating awarenedd about conformity and interoperability and will highly contribute to reduce the digital dividend and standardization gap in developing countries especially introducing new technologies.
Registration, general information...read more.
35 Member States of ITU within the Americas Region
Over 115 Sector Members including private sectors, industries, scientific organizations and regional organizations
Search the ITU Global Directory